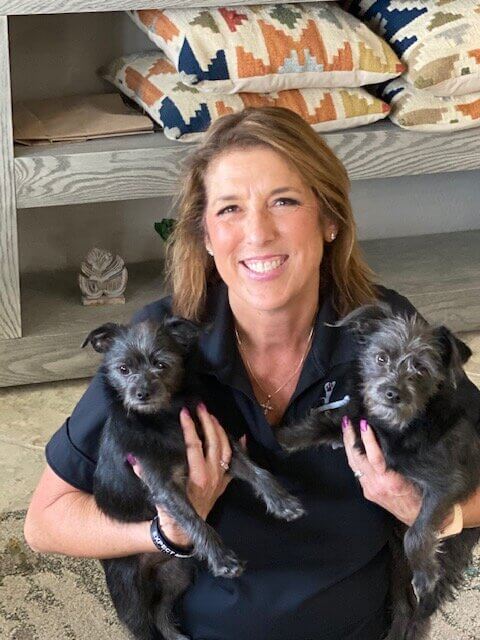 "The righteous care for the needs of their animals" ~ Proverbs 12:10
Canines have always been my passion and I truly enjoy spending time with them and watching them develop into wonderful companions, especially from the early puppy years and being a voice for them. After years of helping friends with their canine issues, I decided it was time to become a professional and have the opportunity to use my skills set and my God given passion to make this a thriving and successful business.
I am a graduate of the prestigious Victoria Stilwell Academy for Dog Training and Behavior and am a certified professional dog trainer. I am a member of the Association of  Professional Dog Trainers(APDT), a The International Association of Animal Behavior Consultants(IAABC) and The Pet Professional Guild (PPG)  and strive to further my education on a yearly basis to ensure that I am providing you with this most current evidence based scientific  training. 
I am passionate about teaching people on how to train and better communicate to their dogs. By doing this, a dog owner can truly enjoy the company of their "forever" dog and never having to make the very tough decision of surrendering the dog to a shelter or possibly thinking of giving it away to someone else because the behavioral issues of the animal were not addressed as a puppy.
I will treat your dogs as if they were my very own and will always be honest and upfront with you as the owner. I pride myself as being very professional, ethical and trustworthy with you and your pets. I am completely committed to helping you succeed.
We are a faith based company, and would love to be able to pray with you for any needs. God has blessed me with the ability to connect with canines and I thank HIM daily for this gift and I want to use it to help you solve your canine frustrations.
I look forward to meeting you and your family as they are an integral part of your dog's success story!
"Pawsitive" is exactly the kind of training that Natalie offers to her customers. She is patient with the dog AND the customer and always gives positive encouragement. My dog, Fresno was a pretty quick learner, but he did struggle understanding one of the commands she was trying to teach. She kept with it and tried different things until he understood what she was asking him to do. She does a comprehensive questionnaire prior to the first visit to find your dogs strengths and weaknesses and what you are wanting to get out of the lessons. I would recommend Natalie to anyone needing a trainer.
Carla A.
Phoenix
I can't recommend Natalie with Pawsitive K9 Trainers enough! From the beginning Natalie helped me build a life long, loving bond with my dog. Natalie trains her dogs with a compassionate, positive experience while not only training the dog but also training the owner. I appreciate her patience and her firm, yet kind, approach. Your dog and you will love Natalie and Pawsitive K9 Trainers
Kim
Verrado
Natalie is the best dog trainer! She is very professional and personable and just a pleasure to work with. Our dog Wrigley loved her and obeyed her every command - well most anyway! Wrigley is an 8-month-old male Sheep a Doodle with lots of energy. Part Old English Sheepdog and part Golden Doodle. Natalie is a wonderful person and a great dog trainer. We were very pleased with her services and highly recommend her to our friends!
Barb Van Rekom
Victory
Natalie is a great trainer and makes it so much fun - each visit brought out the prancing, playfulness in our Foxhound! So easy to work with and Maxx loved her and responded so well to her methods. We made a lot of changes and get a lot of compliments on Maxx's behavior when we are out in public. We worked a lot on his breed specific needs and switched him from therapy work to scent. Amazing to watch him process the difference between the two! Highly recommend her as she is patient and always looking for different ways to get the desired responses.
Debbie
Victory